DFO Level 70 Cap Male Striker Guide-Which striker is better
Which striker is better? Female or Male? I think With little investment, Female striker is better than Male.The reason is, it's easy to counter monsters with female striker's skills.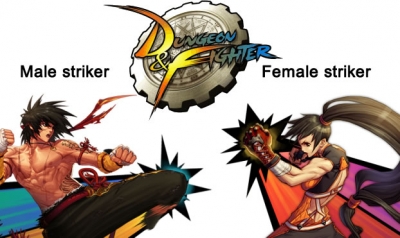 Lightning dance is buggy (sometimes) and makes monsters cower(?), so you cannot benefit from extra counter damage.
Female striker's skills don't disperse monsters, so female striker's skills are ideal for muscle shift chains.
Female striker's ex has a very low cooldown (18 seconds I believe)
Dragon kick has 3 kicks before the finishing kick and so difficult to counter monsters with the finishing kick.
DFO Level 70 Cap Male Striker Guide-Which striker is better
However, once you invest a lot of time and DFO gold (and with blessed fingers to use Dragon kick to its potential) I think Male Strikers can clear dungeons faster than Female Strikers.
Male Striker's Lightning dance gathers monsters.
Pure Walk! (so good to move around!!)
Reduced cooldown with the awakening.
With an enhanced weapon, Chronicle gears, elemental damage boost, halgi's ring, 100% critical hit chance, and Dragon kick platinum emblems, you can one hit KO any boss (except otherverse bosses) with just one single skill.
FeedBack
TIM

Great service, low prices and quick delivery.

ahmad khater

Very good website! Would recommend everytime.

Scott

This is the only place I buy DFO gold from. I was skeptical at first because all the rumors your hear. But I have never had a problem with these guys. And the best part they stay with you and make sure you get what you buy! I wish more retailers would sell like them..
more +
Completed Order
Tiner Buy Delezie (NA - West) 1900M Gold

Mar/24/2019 11:14:50

Custorm Buy Cain(NA - East) 40M Gold

Mar/24/2019 11:14:50

Raymond Li Buy Cain(NA - East) 700M Gold

Mar/24/2019 11:14:50

Tristan Buy Delezie (NA - West) 1600M Gold

Mar/24/2019 11:14:50

Smallfish Buy Cain(NA - East) 70M Gold

Mar/24/2019 11:14:50